Welcome, 2021!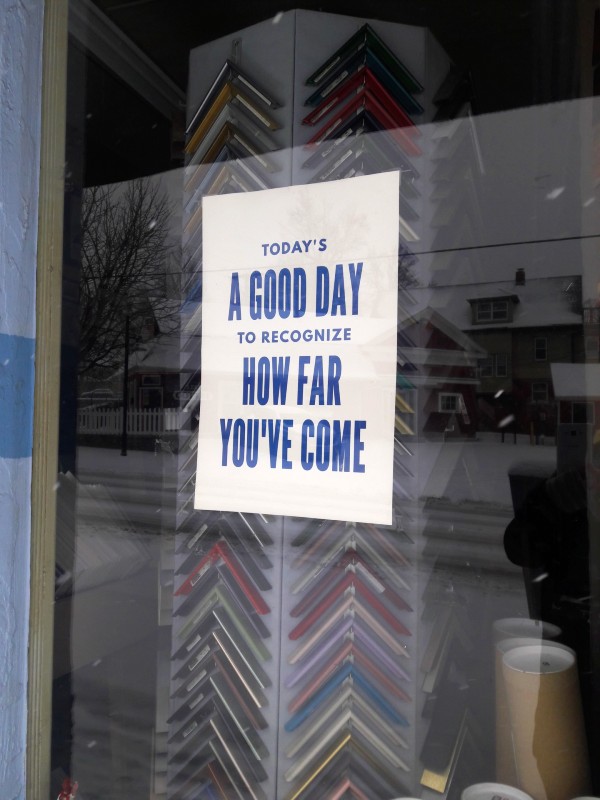 I went to bed last night at 11, being very droopy; but found myself awake at midnight after all, as the city finally let good and loose all the artillery they'd been saving up for the moment. But soon after midnight the storm came in, and I woke much later to the sound of freezing rain against the windows. I may have written ice storms as a meteorological hero for convenience's sake, but am not a lover of broken tree limbs and downed power lines in real life. However, it soon changed to snow, and it has been snowing steadily all day since.
Some years ago I encountered a passage of Evelyn Underhill meditating on the story of the disciples in the boat in the storm, in which she made the arresting assertion: "The universe is safe for souls." This was more or less the opposite of what I believed, on a practical level. What I believed, pretty much, was that reality had it in for me. But if I believed this assertion, I thought, what would I do differently? It became a long-term experiment.
The universe is clearly not safe for our bodies, as we have daily proof on multiple levels. But our souls — our selves as a whole, expressed coterminously with the body, mediated through the mind — are affirmative things, as rightful as the universe of which they are part. It's one of the truest things I can think of, and also one of the hardest to believe.
Last year started hard, and got harder. And the harder it got, the harder I got: in February I woke up one morning so angry I burst into tears; by the time the long course of the pandemic set in — another day, another loss, another day, another injustice — I clung to stoicism like a vine to granite.
2021 is not going to be easy. If there were any illusions to be had about that, they're like curling sticky-notes, all but fallen already. But I think I need to be soft again. No, I think I need to be like a sword — hard enough to keep an edge, tender enough to spring like steel.
After all, I'm a soul, and I'm here: and that's an affirmative thing.
May you be supple, strong, and true this year.