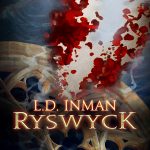 In preparation for the Memorial Day festivities, your intrepid author is making a list and checking it twice planning for the softcover launch ahead of time. I've talked to any number of folks who've mentioned wanting to purchase a paperback copy of Ryswyck, including those who were all ready to roll up and put their names on the proverbial Girl Scout cookie order sheet.
So here it is. In fact this is better than ordering Girl Scout cookies, because you won't be reaching into an empty sleeve and wondering where the hell all your Thin Mints went. With a book, you can read it more than once!
So, if you're one of those people who wants a paperback, please use the form below to order 5 boxes of Caramel Dee-Lites — no, give the author 5 boxes of Caramel Dee-Lites — no, hang it, I mean let the author know your intentions so she can plan accordingly. (The author is certainly not going to promise that a gift of cookies will expedite a local distribution order. Nope, no indeed.)
All facetiousness aside, I promise not to make nefarious (or possibly even noticeable) use of your email, or expose it to spammers, or put you on my newsletter subscription list — I'd have to start producing a newsletter first. (Which I may do in the future, with a separate signup.)
And meanwhile, you can still preorder the e-book at the distributor of your choice. And you can visit the author at Goodreads, too!